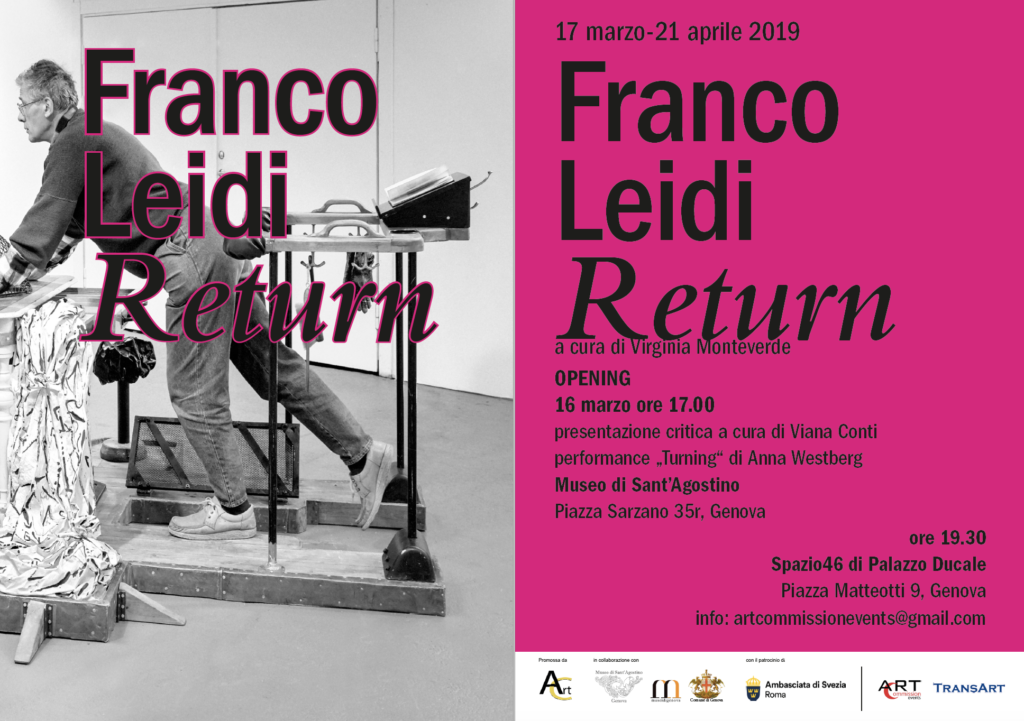 FRANCO LEIDI – RETURN
 (dal testo di Viana Conti per il catalogo Franco Leidi. Return, edizioni Wirklichkeit Books)
Genova è la città in cui Franco Leidi è cresciuto e si è formato artisticamente e culturalment
e, frequentando l'Accademia Ligustica di Belle Arti dal 1957 al 1961 e l'Università, in cui si è laureato in Sociologia. È il capoluogo ligure, quindi, che accoglie la sua mostra antologica. Questo importante evento espositivo si articola tra le sale del Museo di S. Agostino, che ospita stabilmente una collezione di alto pregio di sculture, affreschi, reperti lapidei, e lo Spazio46 di Palazzo Ducale, all'interno del maestoso Cortile Maggiore. La mostra si configura in due sezioni di base: quella dei disegni di piccole, medie e grandi dimensioni, di fotoincisioni, fotografie, un video (in cui sfila un'assemblage di incisioni, ora libere ora incorniciate), e di due sculture, allo Spazio46 dello storico Palazzo genovese, appunto, e quella dei grandi assemblage e collage di acquarelli, sculture, ancora di acquarelli di medie dimensioni, di grandi installazioni con attrezzi di molteplice riferimento, esposti nei saloni museali del Sant'Agostino, prestigioso complesso conventuale d'origine medievale. Guardata nel suo insieme, la mostra si connota come un coinvolgente Teatro dell'Immaginario.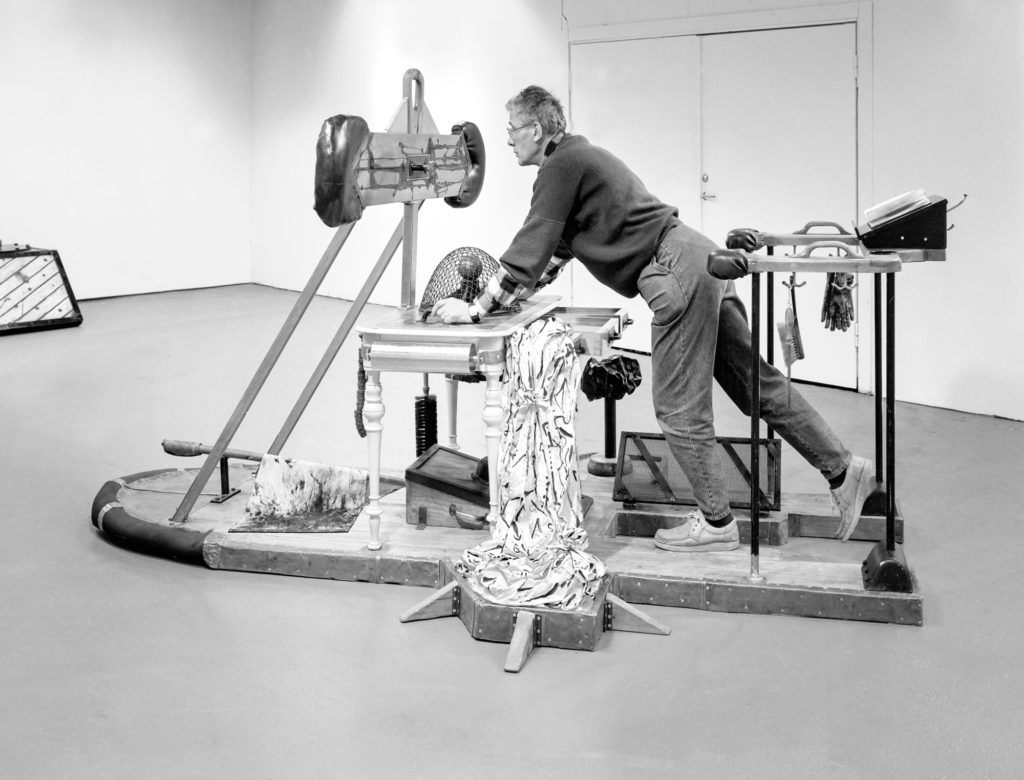 The Exhibition (from the text by Viana Conti for the Franco Leidi.Return catalog, Wirklichkeit Books editions)
Genoa is the city where Franco Leidi grew up and received his artistic and
cultural education, attending both the Ligustica Academy of Fine Arts from 1957 to 1961 and the University, from which he graduated with a degree in Sociology. It is fitting the Ligurian now hosts this retrospective exhibition.
This important exhibition is being held partly in the rooms of the Museo di S. Agostino, a
museum that permanently houses a collection of outstanding sculptures, frescoes and stone artefacts, and partly in Spazio46, a gallery located in the majestic Cortile Maggiore of Genoa's historic Palazzo Ducale. The exhibition is divided into two main sections. The one in Spazio46 features small, medium and large drawings, photo-engravings, photographs, a video (showing a parade of both framed and unframed engravings), and two sculptures, in Spazio46. The other section is housed in the rooms of the Museo di S. Agostino, a prestigious convent in medieval times.
Seen as a whole, the exhibition has the hallmarks of an engaging Theatre of the Imagination.